Moscow Metro Competition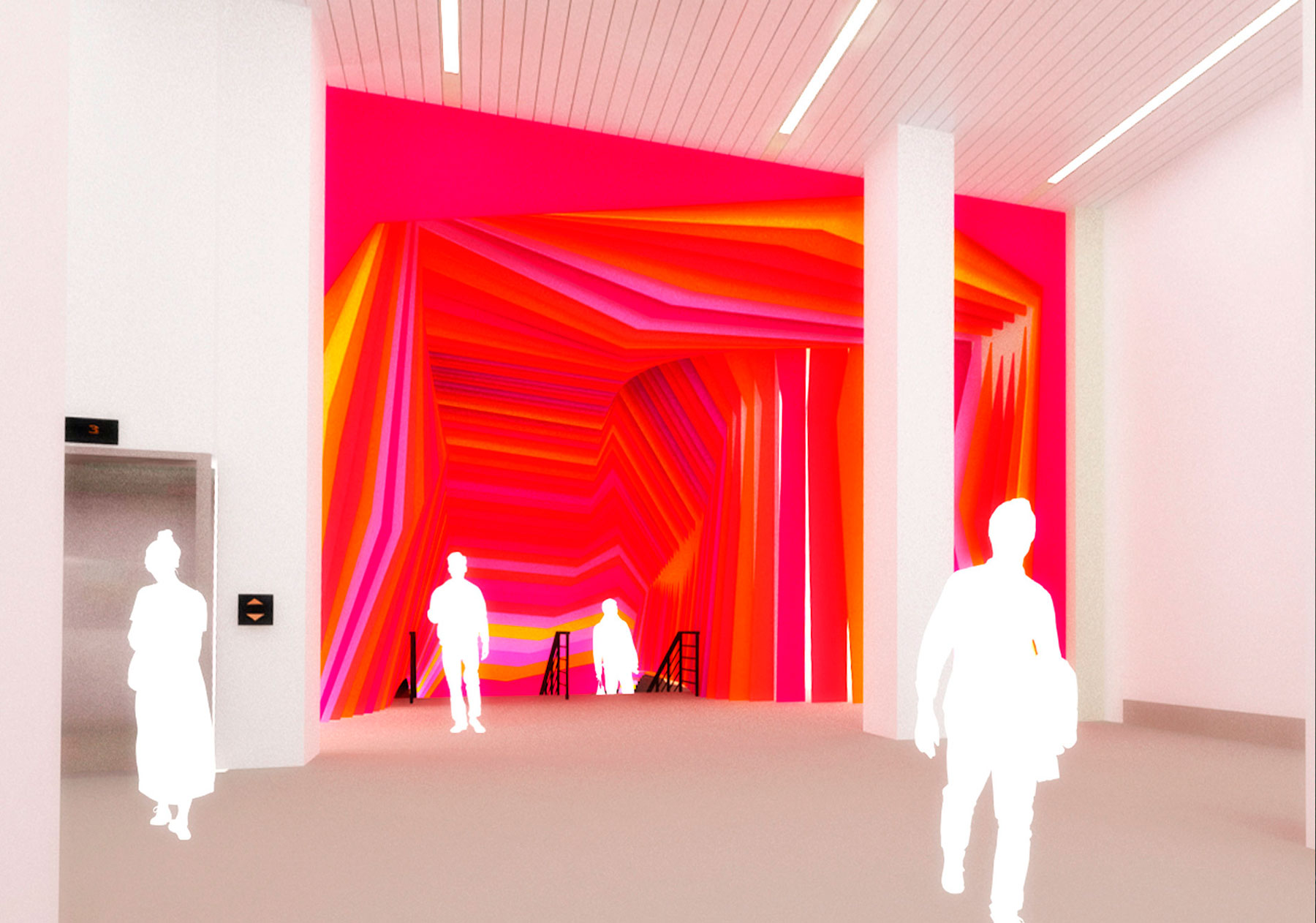 Insight
Metro stations are directly related to our daily life, door to our working place or to our home, the space where we spend the first moments in the morning and the very last of the day. It is there where we start to imagine how will our day pass by at morning or where we do a balance of how did the journey go on our way back home by the same time we start to think how will we find our family or friends. What if we could push those first thoughts of the day into a positive field? What if we could create an optimistic environment for people going to job or coming back to their homes? Could the metro station become a motivation for kids going to school?

Idea
The two concepts could resume this project would be optimism and movement. Color it is a tool to express and join those two concepts.
Optimism_ Introduction of a positivism injection into daily life. Color transmits motivation and happiness. Both feelings are mandatory in daily life especially in big cities like Moscow. The color exuberance drives people to multiple spaces into their imagination, not only their childhood but tropical landscapes or it reminds the rainbow in somehow. it contains certain music inside as Kandinsky paintings do.
Movement_ Creation of a cinematic landscape interacting with the train and pedestrians movement. Expression of the constant movement inside the station by a flowing space, a project exploring the full dimension of Novoperedelkino station giving not only great depth but creating multiple special situations by a metaphore of the train movement.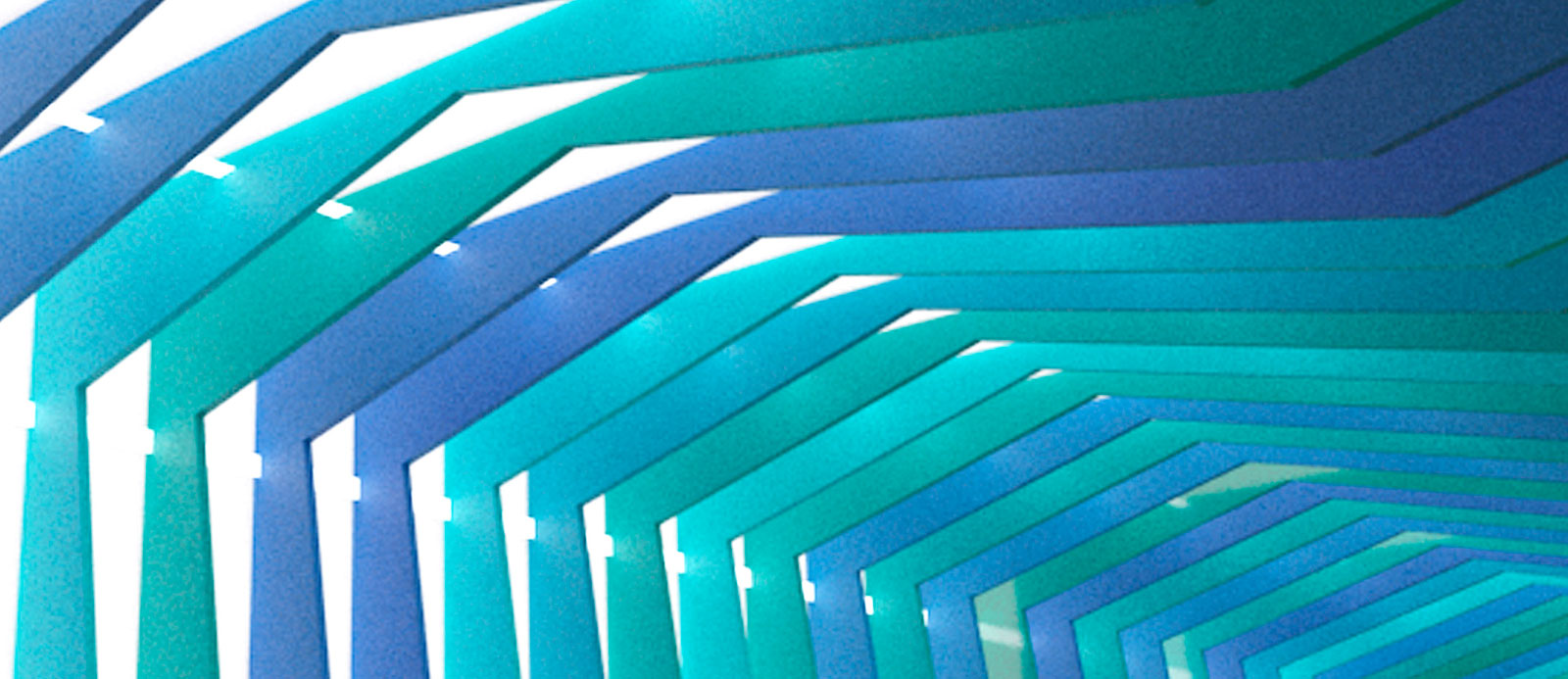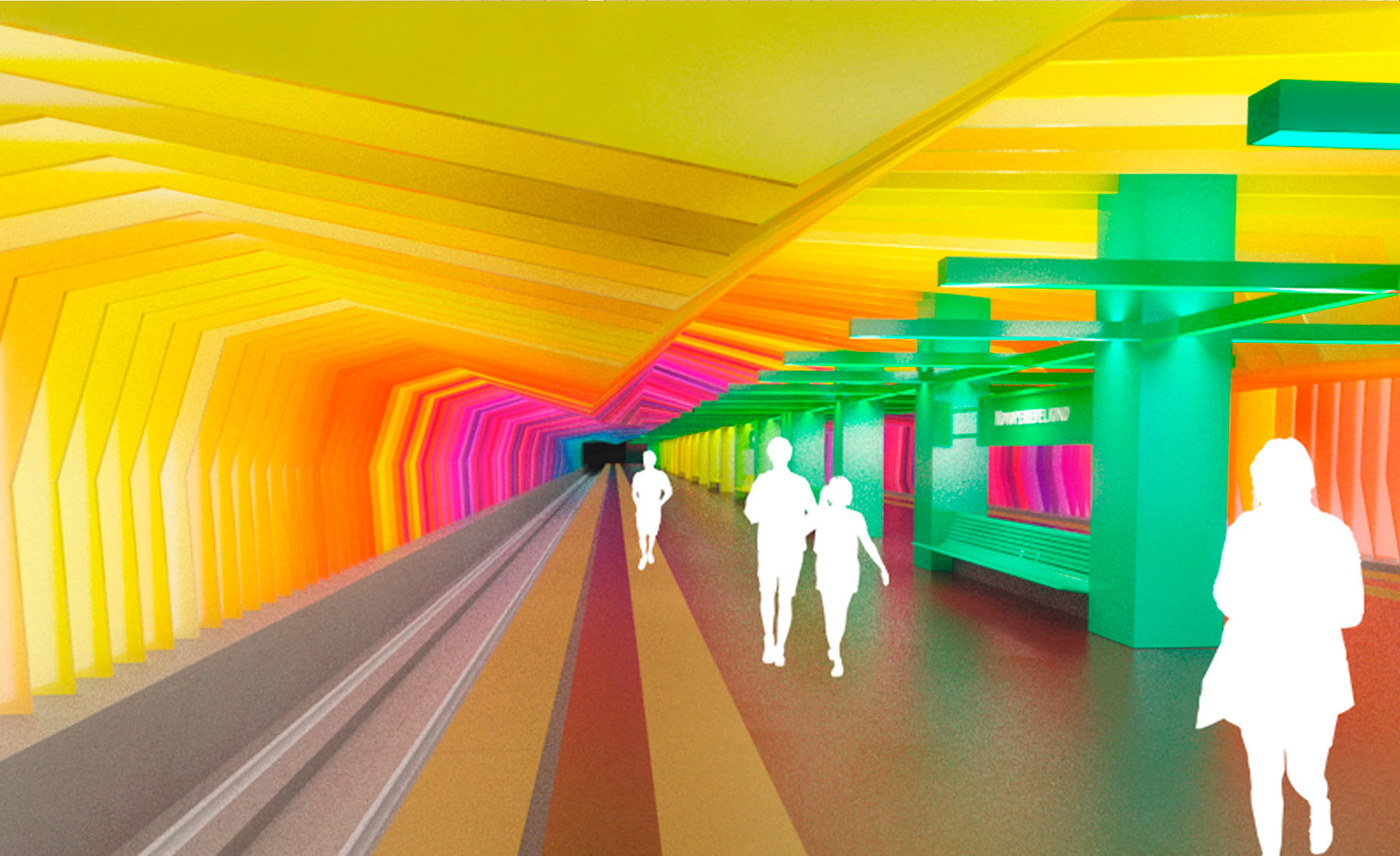 Description
The platform it is cover by 200 glass fiber reinforced concrete (GFRC) pieces containing a color gradient from yellow to orange, red, violet and blue into the platform perimeter. By the use of parametric design software, the form of each GFRC piece it is different to the others, creating spatial diversity and variety of sensations. The colors in the ceiling and walls interact with the ones in the central columns and furniture. In the platform middle band, green produces a neutral frame reference to control the full space but also working as a filter that contains the colors in the background.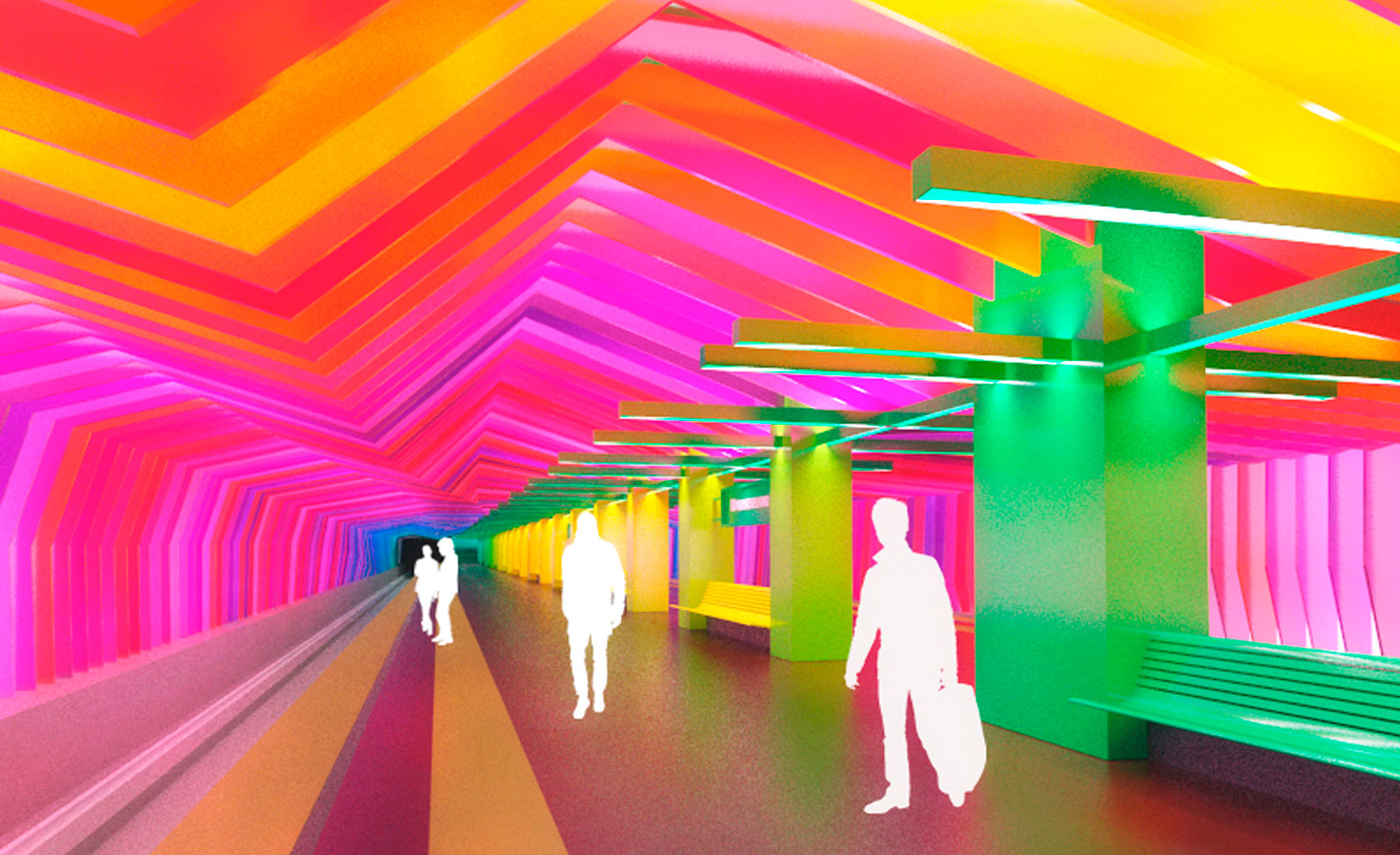 Description
The main characteristic of this sheets system it is that when you are walking or moving and you have a frontal vision of the space it is full of color, but when you stand to wait the metro and you look to the platform perimeter, the sheets become thing lines over a white background.
This material it is very easy to be clean and can be painted if need. The GFRC pieces are placed each 50 cm and they are 4 cm wide. The main idea it is to produce 5 standard pieces that could be latter cut in order to optimize material resources.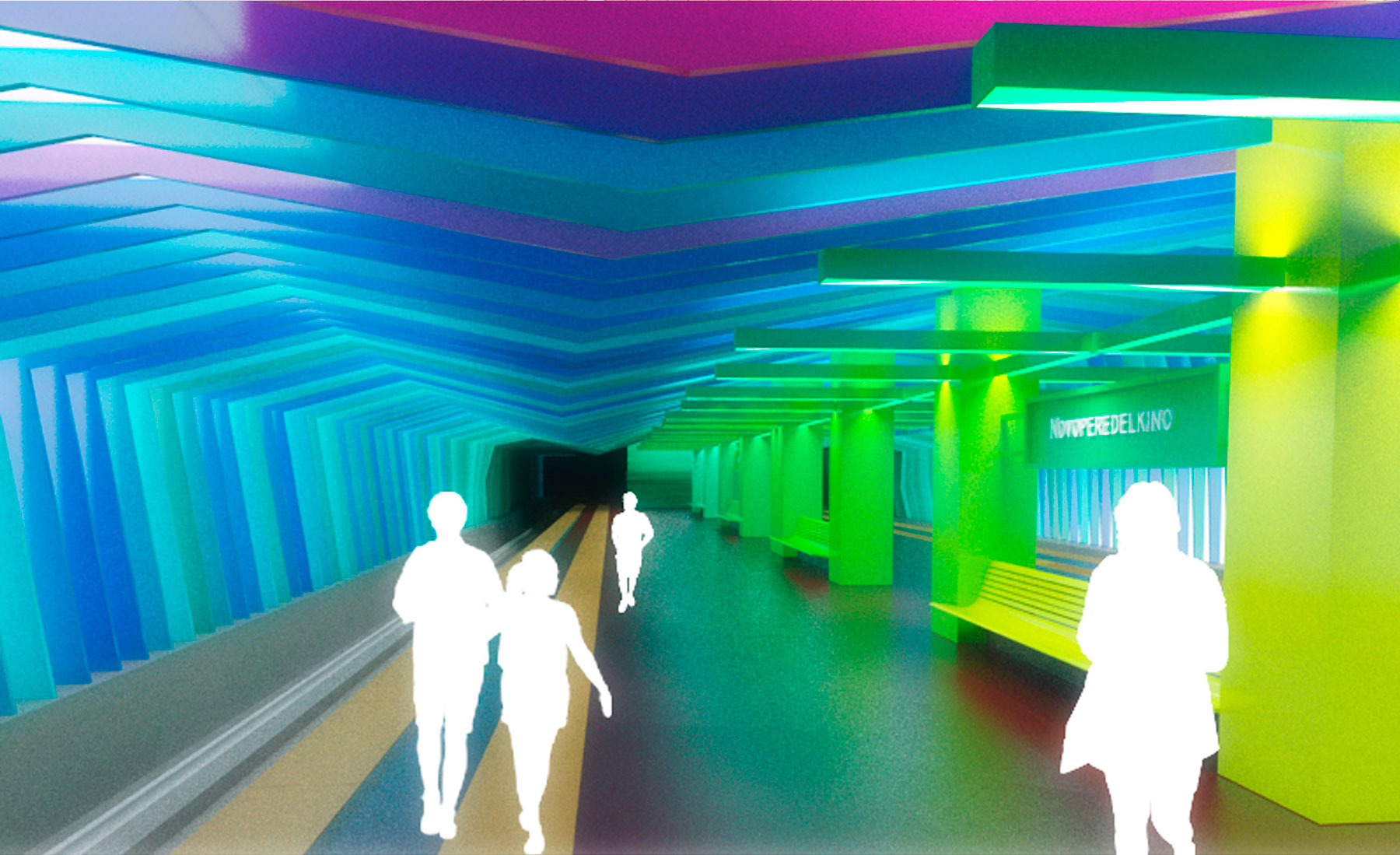 Client: Moscow Metro Council
Type: Interior Design, Infrastructure, Public
Location: Moscow, Russia
Year: 2014
Budget: –
Size: 4.500 m²
Program: Metro Station
Architects in Charge: Ignacio Gias
Collaborations: Francisco Javier Ruiz Montero
Moscow Metro Competition